NUEVA PUBLICACIÓN EN REPRODUCTION & FERTILITY !
Hemos publicado un nuevo paper con nuestros grandes colaboradores del Camel Reproduction Center (Dubai, UAE) acerca el uso del Camel 4MID Kit (ref. 4VDX-19K11) en el centro de reproducción de camellos!
Desde 2017, nuestro equipo ha colaborado con la Dr Clara MALO y el Dr JA SKIDMORE del  Camel Reproduction Center (CRC) acerca de cómo mejorar la calidad del semen congelado del camello, incrementando el éxito en la inseminación artificial en el centro
El primer paper acerca de la caracterización de proAKAP4 en el camello ha sido publicado en Reproduction and Fertility!
Malo C, Carracedo S, Delehedde M, Sergeant N and Skidmore L (2021) Identification of proAKAP4 concentration variations in dromedary sperm and their correlation with monthly semen parameters. Reproduction and Fertility Volume 2 Issue 4 (2021) (bioscientifica.com)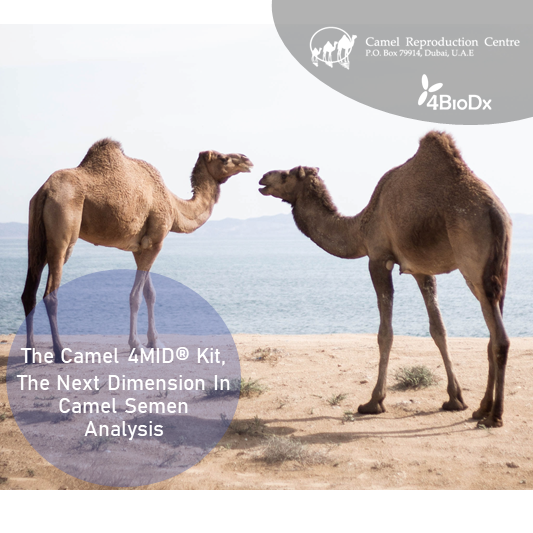 El Camel Reproduction Center  (CRC) está dedicado tanto a la investigación en la reproducción del camello como a actividades comerciales.
El CRC ofrece a sus clientes los siguientes servicios:
* Ecografía del tracto reproductivo y diagnóstico de gestación
* Transferencia de embriones para clientes con camellos hembras de gran calidad.
*  Recolección de semen y análisis de los camellos machos.
El Camel 4MID Kit es el único ensayo funcional de la calidad del semen, basado en el análisis de proAKAP4 en fresco, refrigerado o congelado.
Más detalles en www.4biodx-breeding.com
Visite nuestra sección de  NOVEDADES  para conocer a nuestro equipo técnico o visite nuestra página de  facebook !